FEATURE: Kayley Holloway
Kayley Holloway is a 22-year old Public Relations Major at the University of Florida. Holloway was born and raised in Atlanta Georgia, but relocated to Florida before her senior year. Being from Atlanta, Holloway supports her local Falcons, Braves and Hawks. When it comes to Hockey, Holloway's favorite sport, she cheers on the Winnipeg Jets and the Nashville Predators. 
What to do Next?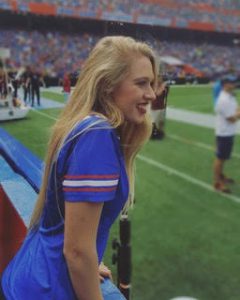 During her her final year of high school, Holloway had to make the toughest decision any high school senior has to make. Choosing where to go to college is difficult for anyone. Holloway thought about Georgia State and Texas A&M, but ultimately decided to stay in Florida and attend UF.
Holloway wasn't always a Pubic Relations major at UF. She started as a nursing major, but ever since high school she knew that she would eventually switch over to Public Relations. So, why PR?  Holloway fell in love with PR during her junior year of high school. She had to do a project on a career she would be interested in and after seeing she could work in sports her mind was made up. Ideally, Holloway would have wanted to work with the Atlanta Thrashers, but they relocated to Winnipeg in 2011. However, Holloway works with the Winnipeg Jets and is the Team Sweden reporter for a hockey magazine in Boston, Massachusetts. 
https://twitter.com/kayleyashlyn39/status/771782229445844992
More about Kayley
One might think, why Team Sweden? When speaking with Holloway, she prided herself on the fact that she taught herself how to speak Swedish. She started learning the language her junior year of high school and found a way to mix it into her career path. When asked about how she taught herself, Holloway said "I used a lot of movies and music to immerse myself and learn pronunciation, but all of the mechanics and whatnot I taught myself through grammar books and online study guides."
As I mentioned earlier, Holloway's favorite sport is hockey. She played since she was four-years old and knew that it was hockey would be a really important part of her life. Both of Holloway's parents played hockey, and although she no longer plays for a competitive team, she played until she started college, but occasionally plays some pick-up hockey when she can.
So the last two paragraphs you read were about how she taught herself Swedish and how her love for hockey started. Here's where they connect. Holloway mentioned that the most memorable moment of my life was when she was 16 at an Atlanta Thrashers hockey practice. Holloway knew enough Swedish to be semi-conversational, and her favorite player, Tobias Enström, is Swedish. She didn't just meet him, she got the chance to interview him in Swedish.
When Holloway graduates, she plans to move to Nashville in hopes of getting a job with the Predators. Her overall goal is to work in Media Relations in the NHL. Working for the magazine, she already has media credentials with the NHL that right there is a huge step in the right direction.
http://www.hookedonhockeymagazine.com/sweden-dominates-slovakia-advances-to-semis-at-the-2017-world-junior-championships/